There has been no quilting going on as we are spending all of our time working on our new house. It is hard to believe that only last Monday we signed the papers in the afternoon on it!
We took Mr. Mickey with us two days but there was too much activity and he was so stressed. He wouldn't even look out the windows, in fact at one point I couldn't find him and he was down in the basement bedroom curled up facing the wall. Poor guy doesn't know what is going on!
It only takes 10 minutes to drive to the new house so we have left him at home now. He is a much happier dog. I know that once we have his favorite couch and pillow out there he will be fine.
Priorities
We have so much to do and we are really starting to feel our age! This move is already exhausting us.
My priority is getting my quilt studio ready to use, Builder Bob's priority is to add heat to the garage which will become his man-cave. We had vents put in the roof and are getting ready to add a furnace to it.
Future quilt studio
It is hard to believe that this is the room that sold the house! Well, I guess I should say it was the whole basement as I'll have this room for my studio and a family room with a walkout door for Mr. Mickey. Remember what the room in the basement looked like?
Here is the room emptied out. It still needs cold-air returns put in and last night the cabinets were removed. The back wall is pegboard and I'll keep it.
Family room
Here is the basement family room, that carpet had to go!
I am so glad I'm not doing this! That is so much work. The new carpet is in.
I thought I took a photo of the room yesterday but it didn't turn out. I'll take one today. The new carpet is beautiful!
Painting the whole house
Tomorrow the painting begins! We are having the entire house painted alabaster. It may sound boring to some but it makes us happy. Then I can add my wall hangings everywhere.
The kitchen had wallpaper and there were also borders in several rooms. That has all been removed.
Once the painting is finished we can start moving in! I have been moving lots of my quilting stash but can only put the stuff in a couple of closets that won't be painted and also in the garage.
Christmas table runner
There hasn't been time for quilting but I thought I would share this tutorial in case you haven't seen it. This is my Tis the Season table runner and placemats post.
If you have thought about buying a AccuQuilt GO! Big, now is the time!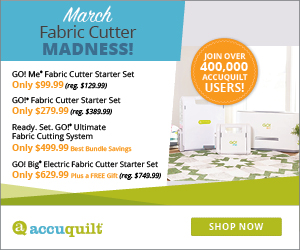 Please note this post contains affiliate links, which means I'll earn a small commission if you purchase through my link at no extra cost to you. Please see full disclosure here. As an Amazon Associate I earn from qualifying purchases.
Great deals for you
I want to share some of the sites that I personally like visiting for the quilting and craft things I buy.