Mini Falling Charm Pack Table Runner
This post may contain affiliate links which won't change your price but will share a commission.
I think I am hooked on making the Falling Charms blocks! After sharing the updated Falling Charms quilt the other day, I decided to pull out one of my mini charm square packs and see what I could make with one little pack. I'll show you how to make a table runner from it!
How many little mini charm packs do you have in your stash? There are so many beautiful fabric collections that have the minis and it is a great way to have a peek at all of the fabrics in a collection.

This is a fun collection of blues, browns and blacks that will work perfectly in our living room. Many times there will be light colors in a collection that won't work for a particular project I am making. I had seven squares that I didn't use that can be added to my scrap stash.
The quilt blocks are made exactly the same as the larger Falling Charms blocks, these are such cute little minis!
The mini charm squares are 2 ½" x 2 ½" and here are the sizes of pieces for the 3 ½" unfinished blocks:
Print – 2 ½" x 2 ½" square
Cream – 1 ½" x 2 ½"
Cream – 1 ½" x 3 ½"
It really helps to layout the blocks so you can get the correct placement of the blocks before you sew the rows together.
This is what I had after using all of the mini charm pack other than the 7 neutral blocks.  I have 5 blocks in each row and a total of 7 rows.
Looks like this will become another tablerunner, they are one of my favorite things to make. This isn't a bad size of tablerunner but I happen to have one more of the little mini charm packs and I think I'll use it to make this a little bigger.
Here is a challenge for you: get out those mini charm square packs and make a tablerunner with them!

I use affiliate links. At no additional cost to you, when you make a purchase I may get a small commission. Your support is very appreciated. Thank you!
Craftsy is having a sale with up to 60% off quilt supplies, this is a great time to pick up some charms packs and thread! This sale is just through tomorrow so check it out now!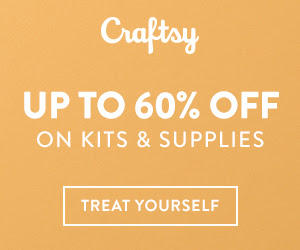 Amazon Prime deals start July 16th! Be sure to sign up and take advantage of all the bargains!