Starting next week the Island Batik Ambassadors will be sharing their final quilt projects as ambassadors for 2018. You are going to see a variety of beautiful quilts as we all share the newest collections of fabric from Island Batik. There will giveaways too!
I'll be sharing a quilt made with the Elk Lodge collection on Wednesday!
This is the same collection that I used to design the Crystal Swirls quilt. I thought you might enjoy seeing little Sadie with the quilt.
Getaway Blog Hop Schedule
WEEK 1
Monday, January 7 – Crystal Ball
Tuesday, January 8 – Ditty
Wednesday, January 9 – Elk Lodge
Thursday, January 10 – Feline Fine
Friday, January 11 – Flea Market
WEEK 2
Monday, January 14 – Fortune Teller
Tuesday, January 15 – Gypsy Rose
Wednesday, January 16 – Paisley Park
Thursday, January 17 – Soul Song
Friday, January 18 – Twilight Chic
WEEK 3
Monday, January 21 – Winter Park
Tuesday, January 22 – Bazaar
Wednesday, January 23 – Blossom
Thursday, January 24 – Boho
Friday, January 25 – Brookview
WEEK 4
Monday, January 28 – French Blue
Tuesday, January 29 – Midsummer Night
Wednesday, January 30 – Oh Deer
Thursday, January 31 – Snow Berry
Friday, February 1 – Candy Cane Lane and Icicle
This post may contain affiliate links. Please see my full disclosure policy for details.
Craftsy is having a huge Clearance Sale up to 70% off Kits & Supplies – there are fat quarters bundles for only $16 that are regularly $62 and Charm squares for only $3 – these are going fast!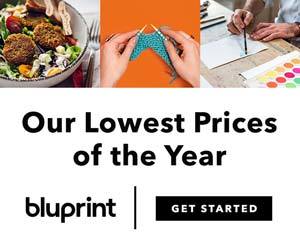 Don't forget to check out Fat Quarter Shop's daily sale!