I have been making all kinds of blocks using some batik fabrics and the new die available from AccuQuilt. The die I have been having a lot of fun with is the 6" Finished Spool die.
New!! Fast and Easy AccuQuilt GO! Spool Die
I have used some of the fabrics for plain blocks.....I might used these for a border.
This die contains all of the cuts on die and they are closer together than I would like but no worries.....I'll create other blocks with the leftovers.

I just pulled out my scraps of colorful batiks for the thread on the spools. I decided to cut 2 of each fabric for my thread instead of 4 as shown on the die cover.

As you can see, I couldn't stop making them! I'm not sure what I'm going to make yet. Right now I am just enjoying working with the die and my favorite fabrics.
In case you are wondering, the neutral fabric isn't a batik. Many times I mix batiks with regular quilt fabric and never have a problem with my quilting.

Putting block pieces on your design wall can help create something new. I'm trying to decide on a border and I kind of like the look I came up with. It isn't a spool but I have an idea for a fun border! More on that soon.
Fast and Easy AccuQuilt GO! Spool Die
As always, AccuQuilt has a couple of free patterns that you can use with this die.
Grab the free pattern for the Spools quilt.
Here is another free quilt pattern called Hidden Spools. Can you find the spools?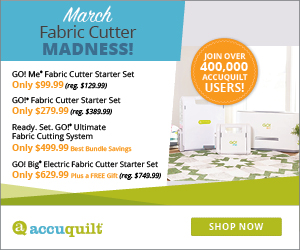 I use affiliate links. At no additional cost to you, when you make a purchase I may get a small commission. Your support is very appreciated. Thank you!
Don't forget to check out Fat Quarter Shop's daily sale!