One of my favorite things to do is to just start working with some beautiful fabrics…..batiks are my favorite and then just see what I end up making. After being a ambassador for Island Batik for the last couple of years I have hoarded collected a beautiful supply of batiks that I can use for projects like this.
My first quilt made with Island Batik fabrics was my River Squares quilt and the following Spring in 2014 is when I became a ambassador.
Every month I do a guest post on AccuQuilt's blog and this month I used the AccuQuilt GO! 12″ Qube and a couple other applique dies. (Sorry, right now the link isn't working).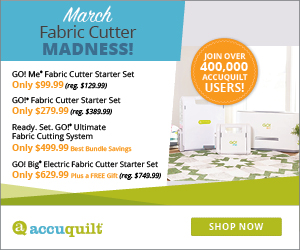 I started out making the background with the intention of adding some birds and flowers and all of a sudden this neat branch of flower blossoms just appeared! The minute I put the teal flowers on the orange and yellow background I just felt like it looked like something out of a Chinese garden.
Once I finished it and was getting ready to write the post for AccuQuilt I googled Chinese Turquoise flowers and one of the first things I saw was the Chinese Forget Me Not flowers! Perfect name for my wall hanging!
AccuQuilt GO!
Die used: #8 – 3 ½" x 6 ½" Rectangle)
Materials Needed:
Orange/Yellow batiks – 6 Fat Quarters of assorted fabrics
Teal/ Turquoise batiks – Scraps of several different ones for the flowers
Dark Brown batik – Fat Quarter
Fusible Web – 1 yard
Backing – 30″ x 30″
Batting – 30″ x 30″
Cutting Instructions using the AccuQuilt GO! Die for the background:
Orange/Yellow Batiks: Cut: 32 rectangles – from the Qube Die #8 Rectangle (55724)
Cutting Instructions:
Orange/Yellow Batiks: Cut 32 – 3½" x 6½" rectangles
Sewing Instructions:
Use a ¼" seam allowance
Make 12:
Sew two of the rectangles together along the 6 ½" side.
Your blocks are now 6 ½" x 6 ½".
Take 8 of the blocks:
Join another rectangle to one side.
Your blocks are now 6 ½" x 9 ½".
You now have:
4 – 6 ½" x 6 ½" blocks
8 – 6 ½" x 9 ½" blocks
Use the following diagram to layout your blocks.

Applique using AccuQuilt GO! dies:
Cut your dark brown fabric into four 4″ x 11″ pieces.
Add the fusible web, I used Thermoweb Heat'n Bond Lite Iron-on Adhesive.
Use the #55331 GO! Stems &Leaves die to cut out the stems.
I cut two of the pieces with the fabric right side up and two with the fabric right side down.
I cut out one group of the green leaves but decided not to use them.
Cut your teal/turquoise scraps into eleven 5″ squares and add the fusible web to them.
Use the #55334 GO! Fun Flower die to cut out the flowers.
Applique using template and directions:
Add the fusible web to your dark brown fabric and then cut 3/8" strips on the bias for the branches.
Cut your teal/turquoise scraps into eleven5″ squares and add the fusible web to them.
Use the template to cut out the flowers.
Remove the backing from your fused fabrics.
Place your background piece on a surface you can iron on.
Arrange the stems similar to the diagram below.
Use a pressing cloth when you iron the stems to your background.
Carefully iron and shape the branches.
Arrange the blue flowers along the branches and iron them down using the pressing cloth again.
Appliqué the branches and flowers in your favorite type of stitch. I use a straight stitch vintage Singer sewing machine to do mine.
Layer your batting between the backing and the front. Quilt as desired. I did a free motion stipple quilting for the background using #2140 Gold 50 weight Aurifil thread.
I thought you might also like a close up of my free motion applique that I enjoy doing on my vintage 15-91 Singer sewing machine.
For ease in hanging the wall hanging I cut two 5″ squares, folded each one diagonally and added them to the top corners.
Add your binding and you're finished!

Be sure and read my Mini Chinese Forget Me Not tutorial post also!
Some of the links on this site are affiliate links and I may be compensated a small commission when you make a purchase by clicking on those links. I only promote products and services that I use and love myself. Your support enables me to maintain the content of this blog and I am truly grateful!
Don't forget to check out Fat Quarter Shop's daily sale!